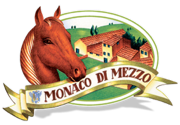 Your organic farm holidays in Sicily
Monaco di Mezzo – Holiday Farm Sicily
The farm is equipped with a variety of self-contained apartments, a restaurant and community area all of which are harmoniously in keeping with the surroundings.
The warmth of timber and local stone frame the spectacular views from this natural haven of rest, without a sign of human pollution but with the perpetual beauty of the seasonally changing colours.
Many sports facilities are available, ranging from horse-riding to trekking; there is the nearby Madonie National Park and Nature Conservation Area with its history and art; there are local wines, olive oil, cheeses, preserves, home-cured meats and home-reared beef to taste – all things to make a stay varied and enjoyable.
Monaco di Mezzo and Further
In Monaco di Mezzo the small Church of the farm was restored to host religious ceremonies.
Guests can take advantage of a swimming pool and a tennis court.
The playground entertains children in an healthy outdoor environment. It is possible to make beautiful excursions by foot or mountain bike in the nearby wood.
Monaco di Mezzo is situated a short distance from the main Sicilian tourist resorts since it is situated just in the heart of the island.